YouTube Video "Breathing" by Mikhail Gurewitsch.
dogma chamber orchestra, Elbtonal Percussion & Florian Weber.
Please note: A click on the preview image loads the video and estab­lishes a connec­tion to the servers of YouTube and Google and loads products such as Google Fonts e.g. Find out more in our privacy policy.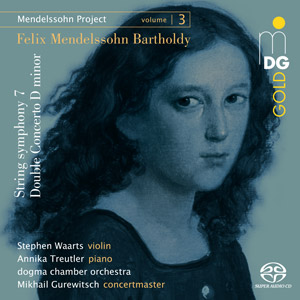 "Mendelssohn Project Volume 3"
New CD: Mendelssohn Project Vol. 3
The third CD of our Mendelssohn Project is released! You will listen to the Seventh String Symphony alongside the Double Concerto for violin and piano. We have made a conscious decision by including only one symphonic work. Expanding to the four-movement structure, the Seventh Symphony marks a turning point in the string symphony cycle and makes way into the second half of the symphonic evolution. Young Felix's impressive creative flow and speedy compositional development are also prevalent in his Double Concerto, composed just about a year later. We hope you enjoy our recording!
New CD: Mendelssohn Project Vol. 3
New Concert Series "Music meets..."
New CD: Mendelssohn Project Vol. 2
Mendelssohn Project
"There's still so much to explore in classical music."