Musik meets..
Please note: A click on the preview image loads the video and estab­lishes a connec­tion to the servers of YouTube and Google and loads products such as Google Fonts e.g. Find out more in our privacy policy.
09|04|2022 | Musik meets literature
Aula der Alten Schule Am Wall
Detmold
7pm

Wonder worlds in the texts of Daniil Charms and music by Dimitri Schostakowitsch.
Encounter:
Author and translator Alexander Nitzberg
Programme:
Poems and prose by Daniil Charms and 24 preludes by Dimitri Schostakowitsch
30|04|2022 | Musik meets architecture
St. Martini
Minden
7pm

Visual appearance and acoustic of a hall church is reflected in the programme of the spiritual and mundane works.
Encounter:
Cultural scientist Kirsten Wagner
Programme:
H. Purcell: "In Nomine"
G. Bryars: "In Nomine" (After Purcell)
L. Berkeley: Antiphon for string orchestra
F. Mendelssohn-Bartholdy: String Symphony no. 10 in b minor
F. Mendelssohn-Bartholdy: String Symphony no. 13 in c minor
Supported by: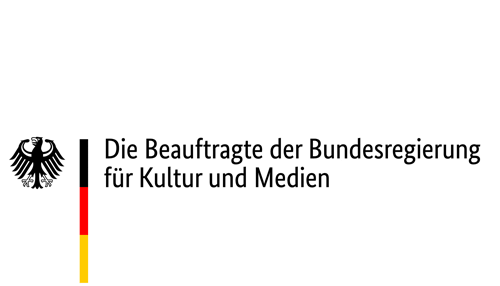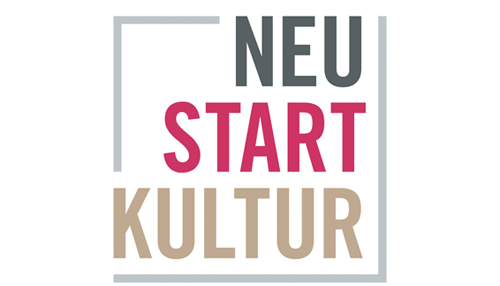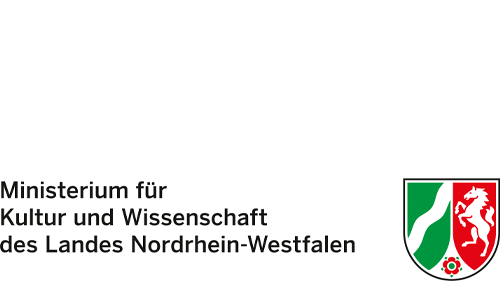 21|05|2022 | Musik meets film
Hechelei (Ravensberger Spinnerei)
Bielefeld
7pm

The paths of the classical music in the film on two promient examples.
Encounter:
Film music expert and composer Bernd Wilden
Programme:
F. Schubert: String Quartet No. 14 "Death and the Maiden"
B. Britten: Simple Symphony, op. 4
The 'World of dogma' Music Festival
04|03|17 - 04|07|17 Duesseldorf
An artistically active group is the heart of the dogma chamber orchestra. We are now focussing our wealth of experience and ideas that we have gained into our own festival. Visitors will get a live experience of our latest studio projects, concerts and our educational activities throughout the week.
Our own festival also enables us to strengthen our cooperation with fellow musicians of various genres. We are pleased and proud to have many wonderful artists at our side. Their performances will certainly make for some special highlights during the "world of dogma" festival.
The dogma chamber orchestra is a collective that has always strived to maintain close contact with its audience. A festival gives us the time and space to cultivate and strengthen these contacts. We encounter new ideas that provide beneficial insights into our world. Our festival offers audiences an exciting program; we're sure there will be something special for any music fan! It's no accident that our festival is in Duesseldorf in North Rhine-Westphalia. Since its inception, the dogma chamber orchestra has been essentially a community of friends. This human aspect has always been the source for our synergy and teamwork. We value our bonds to those places where we have played and been warmly welcomed, and that is why we think of Nordrhein-Westfalen as our home. Here in Detmold, we played our first concert in 2004, and in Marienmuenster we recorded our CDs. The enthusiastic way in which Duesseldorf has welcomed our festival has reaffirmed our close bond with the region - and now we want to give something back. So we're doing it the best way we can: with our music!
Please note: A click on the preview image loads the video and estab­lishes a connec­tion to the servers of YouTube and Google and loads products such as Google Fonts e.g. Find out more in our privacy policy.
Festival program
04|03|2017 | dogma.opening
Robert Schumann Hall | Opening Concert | Concert: 8pm
Museum Kunstpalast | Ehrenhof 4-5 | 40479 Duesseldorf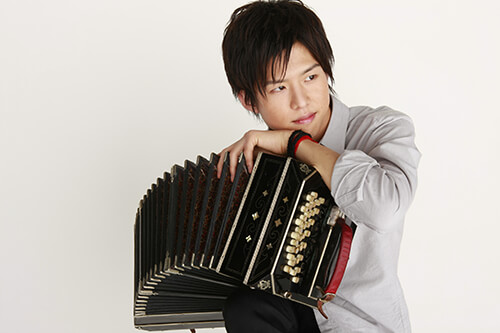 dogma is presenting the opening concert together with the bandoneonist Kazuma Miura from Tokyo. Working with a soloist demands a great deal of musical and human empathy. The dogma chamber orchestra is a collective of like-minded people whose members thrive on friendly, creative communications. So it's a pleasure for us to play with a soloist who shares this outlook. Musicians need no conductor when they are all on a common path. They complement and support each other - thus creating something extraordinary.
Works by F. Mendelssohn Bartholdy, E. Elgar, B. Britten and N. Marconi.
Soloist Kazuma Miura, Tokyo (bandoneon)
(Photo © victor entertainment)

04|04|2017 | dogma.scene
FFFZ Culture Forum Duesseldorf | Schostakowitsch-Charms project | Concert: 8pm
Kaiserswerther Str. 450 | 40474 Duesseldorf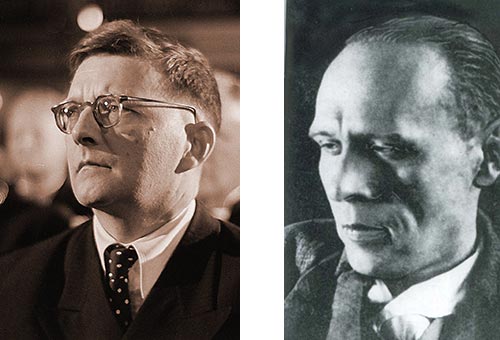 Poems and stories by Daniil Kharms and 24 Preludes from Dmitri Shostakovich.
This project embodies our desire to combine music and literature in a single concert. Using words and sounds, dogma seeks to revive the turbulent 1930s in the Soviet Union and reveal just how closely these two art forms express themselves. The orchestra is pleased to have Alexander Nitzberg, one of the finest experts and translators of Russian 20th century literature, by our side.
Light art: Ingo Bracke

(Photo Schostakowitsch: Wikipedia, Roger & Renate Roessing, credit Deutsche Fotothek; Photo Charms: Wikimedia, gemeinfrei)
04|05|2017 | dogma.dialogue
FFFZ Culture Forum | Start: 2pm
Duesseldorf | Experts day
Kaiserswerther Str. 450 | 40474 Duesseldorf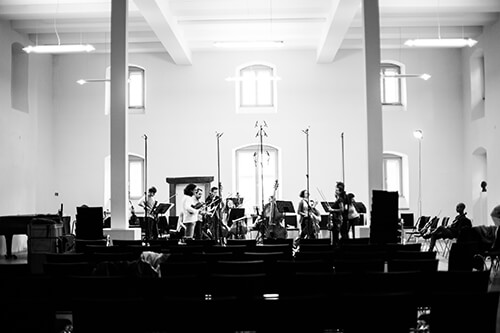 Experts day: the dogma chamber orchestra invites leading German media and culture managers for a dialogue. This day will focus on discussions and presentations concerning current concert design and its media representation.
Young managers from all Duesseldorf cultural institutions are invited and welcome as active participants.

Free entry...
04|06|2017 | dogma.educational
FFFZ Culture Forum Duesseldorf | dogma + TONALi | Start: 2pm | Concert: 7pm
Kaiserswerther Str. 450 | 40474 Duesseldorf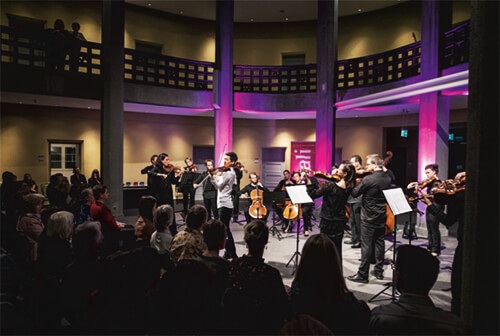 Classical music has no future? We doubt that! TONALi and dogma have been proving just the opposite with their projects around the globe. Both seek to awaken young audiences for classical music. In collaboration with educational institutions, both partners are presenting their "One day - one way" project during the world of dogma festival. The audience will experience, in a single day, how a young finalist of the TONALi competition cooperates and practices with dogma as they prepare for an exciting evening concert.
Program: J. Haydn Klavierkonzert D-Dur, Hob. XVIII:11 and P. I. Tchaikovsky Serenade for Strings
Soloist: Tae-Min Hyun (piano)
04|07|2017 | dogma.premiere
FFFZ Culture Forum Duesseldorf | Concert: 7pm
Kaiserswerther Str. 450 | 40474 Duesseldorf

The dogma chamber orchestra and BERTHOLD Records are premiering their live version of the current CD recording DO.GMA#4 - "British. Now!".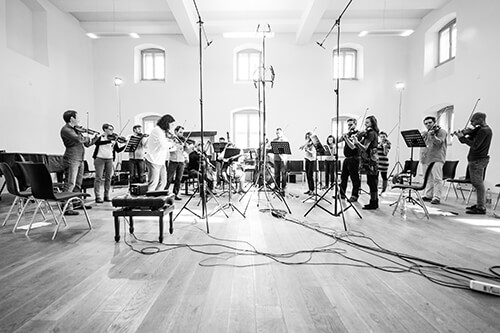 This critically acclaimed recording is the fourth production from the dogma chamber orchestras. After the most recent two CDs won the distinguished Echo Classic prize, our 18 musicians decided they wanted something special this time: Michael Nyman, Britain's best-known contemporary composer, has dedicated his new work "When Ingrid met Capa" to the ensemble. This composition examines the liaison between Ingrid Bergman and photographer Robert Capa. Along with "In Nomine (after Purcell)" by Gavin Bryars, "Antiphon" by Lennox Berkeley, and the "Simple Symphony" classic for String Orchestra by Benjamin Britten, this production provides a very personal view of the orchestra in Britain's musical landscape throughout the 20/21 centuries.
Light art: Ingo Bracke
Program: B. Britten "Simple Symphony", L. Berkeley Antiphon for String Orchestra, G. Bryars "In Nomine", M. Nyman "When Ingrid met Capa".
To conclude the festival, the dogma chamber orchestra invites young Duesseldorf artists to a classical/jazz jam session on the 7th of April, starting at 9pm. Various chamber music constellations, with or without members of the dogma chamber orchestra, will be assembled to present their art spontaneously.
Please note: A click on the preview image loads the video and estab­lishes a connec­tion to the servers of YouTube and Google and loads products such as Google Fonts e.g. Find out more in our privacy policy.
"Die Reise der klassischen Musik ist noch längst nicht abgeschlossen."