awards.
dogma chamber orchestra wins the OPUS Klassik award 2019!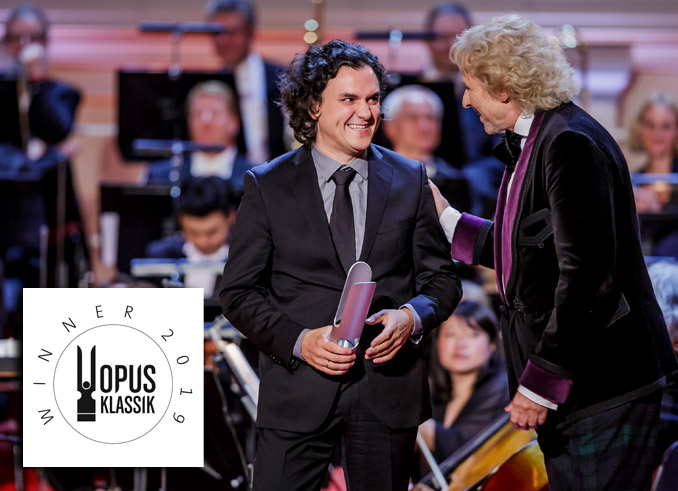 (Photo: © Wuestenhagen/Nass)
"dogma - Live" (MDG) - awarded in the category "Best symphonic recording of works until the 18th century"!
Read more in crescendo's article "purism wins!" (german language)!
dogma chamber orchestra wins ECHO Classic 2014!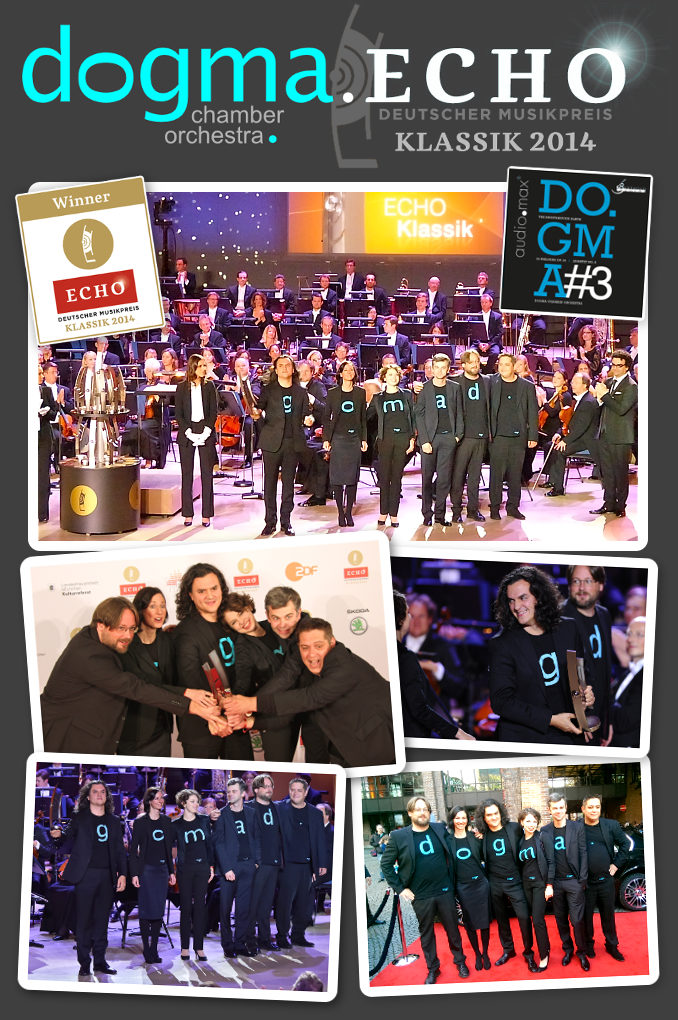 (Photos: © MusikWoche/Manfred Gillig; MusikWoche/Knut Schlinger; BrauerPhotos fuer BVMI)
"DO.GMA#3 - The Shostakovich Album" (BERTHOLD records / MDG) - awarded the Symphonic Recording of the Year (20th/21st century music)
http://www.echoklassik.de/en/klassik-sinfonische-einspielung-2014_3/
"Grandiose! A wonderful present for the 10th anniversary of the dogma chamber orchestra," says Mikhail Gurewitsch, the concertmaster, about the new award and explains, "The Shostakovich album has a special personal meaning for us. Shostakovich's Eighth String Quartet, because of its intensity and history, is a formative work for musicians of our generation and we see it as great good fortune to be able to play his 24 Preludes for Piano for the first time in this arrangement for string orchestra."
The dogma chamber orchestra has indeed produced an exceptional album, which has won over the jury of the Phonoakademie. Following the success of "DO.GMA#2 - American Stringbook" (ECHO Classic 2012), the orchestra has received this sought after award for the second time - a rare honour, with which the jury acknowledges the innovative work of the orchestra.
The ensemble is on the best path once again to increase its ever growing following.
Dogma orchestra's official video on the ECHO Klassik 2014 award show:
Please note: A click on the preview image loads the video and estab­lishes a connec­tion to the servers of YouTube and Google and loads products such as Google Fonts e.g. Find out more in our privacy policy.
The award handover at the award show:
Please note: A click on the preview image loads the video and estab­lishes a connec­tion to the servers of YouTube and Google and loads products such as Google Fonts e.g. Find out more in our privacy policy.
ECHO-Klassik 2012
dogma chamber orchestra/
Mikhail Gurewitsch
Awarded with the album:
American Stringbook
(Audiomax/Berthold Records)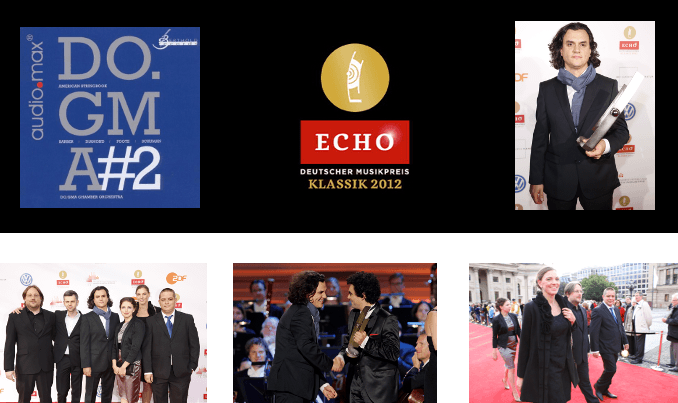 "Wir verbringen hier Zeit mit Menschen, die wir mögen."